Xmal Deutschland were a band that never came close to receiving the credit that they were due. They were a band that would who came to life in 1981, immediately pigeonholed as part of the "Neue Deutsche Welle" (New German Wave) movement along with the likes of Einsturzende Neubauten, DAF, Joachim Witt and many, many others. Once signing to 4AD brought them to underground prominence, Xmal Deutschland then suffered from endless comparisons to Siouxsie and the Banshees, once again erroneously classified. However, in actuality, Xmal Deutschland was an amazing post-punk band with a strong singer and a unique sound all their own. Artist Anja Huwe, singer of the band, gives us some insight into the origins of Xmal Deutschland, their time with 4AD and their imminent departure and demise, and glimpses into her life after recording and her new stint as an artist.
As a girl in her teens, Anja would make various trips to London with her boyfriend to check out the burgeoning '77 Punk scene. At the time, she had sights on Paris to pursue a modeling career (Anja had very long hair prior to this, but cropped it to become a hair model), but heavily influenced by the DIY punk aesthetic, she soon formed the original all female incarnation of Xmal Deutschland with the assistance of borrowed equipment from various friends and boyfriends.
"It all started in 1980 because our friends were in punk bands."
In those early days, Anja would even spend time sharing a flat in Germany with a crowd that included members of Einsturzende Neubauten and the notorious Christiane F., each seeking their own musical relevance at the time. Anja originally began as the band's bass player, but soon switched to vocals by default.
In The Beginning: To a fledgling band in Germany, Alfred Hilsberg's ZickZack label was a godsend.
"Alfred was great, he would release anything".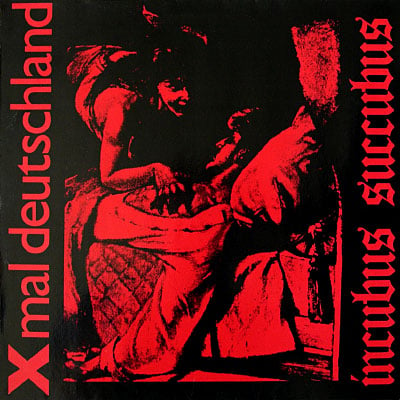 The first Xmal recordings, the 1981 Großstadtindianer 7''and 1982's seminal 12″ Incubus Succubus were released with little fanfare in their native Germany, but garnered much more interest in England via the legendary John Peel , who over the years recorded four of his famous Peel Sessions with the band. Consistently gigging in London, Xmal Deutschland grew their fan base while touring with bands such as The Mission, The Cult, and Cocteau Twins, the latter who helped the band obtain a spot on 4AD.
1983's Fetisch captured that pure, raw energy that any great first album should. Musically tight and lyrically dark, Fetisch was an incredible debut album which put the band light years beyond anything in the Neue Deutsche Welle realm. Classic tracks like 'Qual,' 'Geheimnis,' 'Danthem,' and the album's strongest track 'Boomerang,' clearly showed Xmal Deutschland at their finest. Xmal worked on the album with John Fryer, in the studio owned by Vince Clarke.
"We would record during the daytime while at night was Depeche Mode's time. To sing every morning, we would have to put away all these walls because Dave Gahan couldn't sing in front of people."
Also in 1983, the band re-recorded 'Incubus Succubus' at the urging of label head Ivo Watts-Russell, which birthed the version that is still, to this day, a dance floor staple in every goth/industrial club around the world.
Released in 1984, The band's second record, Tocsin refined the energy of the debut album and as any good sophomore album should, it broadened their sound; adding more atmosphere and richer production, most notably on tracks such as 'Reigen,' 'Eiland,' 'Tag Fur Tag,' and 'Xmas in Australia.'
"Ivo (from 4AD) liked the first album. Disappointingly, however, he wanted us to be the new Wire. We wrote songs that meant something to us, but that's just what he didn't want us to do- he wanted us to be arty."
Anja and co. strongly disagreed with Ivo's suggestions, so the band parted ways with 4AD upon the record's release and took things upon themselves. As the band's following grew and grew, singing comparisons to Siouxsie Sioux arose, but funnily enough when asked, her response was most curious.
"I never heard her music, and I just didn't know her. We nearly had the same management at one point (Dave Woods), but the Banshees said NO, you're not going to manage THEM."