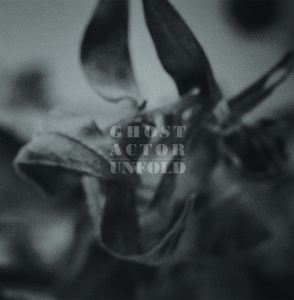 Though, even as this is Ghost Actors first full-length album, the protagonists that comprise the vienna-based duo's , Mahk Rumbae and Corina Nehupar, have  long history in the dark music scene. Thus Mahk, as a member of Industrial standouts Konstruktivists and Oppenheimer MkII, and Corina, as the voice of Vile Oblique, are not newcomers –  they are two veterans that teamed up for a new take on gloomy, evocative and hypnotizing music – audibly good, as the EPs Vile and Torn, released in the past twelve months, have proven. Therefore we will drive down the dark road Ghost Actor tempt us to follow, down where the pictures are composed from black, white and grey, and where the most beautiful landscapes turn out to be an uncanny revelation.
I might not be too far off Ghost Actor's intentions to compare this album to a bleak and dreary  movie. The picture remains unclear and the ending will not be happy, and every single dropped syllable  is important – From "Margin", an eight-minute opening song that slowly builds up without being long for being long's sake, to the maybe most forward-going song, "Lines", that might be closest to a traditional song on this album, blending trippy, down-tempo beats with minimalistic and dense synth scapes, to my personal favourite, the title track "Unfold" – the lights have been turned off completely while haunting, strings-like sounds and reversed drum samples drag you down into a deep hole filled with melancholy (Try
this one when you drive home from a party at night – this is haunting!). Closing with the equally great "Surrender", as I promised, the ending is not happy. Up-tempo beats contrast the slow and dense synth scapes and Corina's singing, dropping single lines, supports the haunting monotony and leaves you waiting for more. Unfortunately, the album closes down with that promise, fading out with a quiet, decreasing tune – the fellow film fetishist's pictures in mind might be even clearer than my description, but since this one is about music, I might finally conclude before I come up with other strange comparisons.
Everything is right where it belongs…were my first thoughts of this album – the fog that comes to mind is dense and a siren's voice lifts it up for a few seconds, just to darken the mental image as it stops. It is really easy to get lost in Ghost Actor's sound scapes, with emphasis on "sound scapes" – contrary to "songs". In fact, Ghost Actor avoid traditional song structures and rely on repetitive beats and slowly swelling synth sounds. Of course this can easily be called "industrial"; but this term I gladly and eagerly love to use does not cover this album completely to describe the music Ghost Actor create. There are references to trip hop (Massive Attack most prominently), November Növelet and the atmospheric songs of Coil pop up in my head from time to time. I should note the excellent mastering. In Death it Ends-mastermind Porl King laid his hands on this and he did an overall-good job. So did the musicians. Following the golden rule "shit in – shit out", this couldn't have been half as good if Ghost Actor would not have provided excellent tunes, with a clear vision in mind and a dramaturgy that keeps you listening with ear open wide the entire album's length. But let's cut it short and just say – get this one. It is truly awesome.
Tracklist:
Margin
Sparks
Forbidden
Lines
Unfold
Surrender